Nippert Stadium Information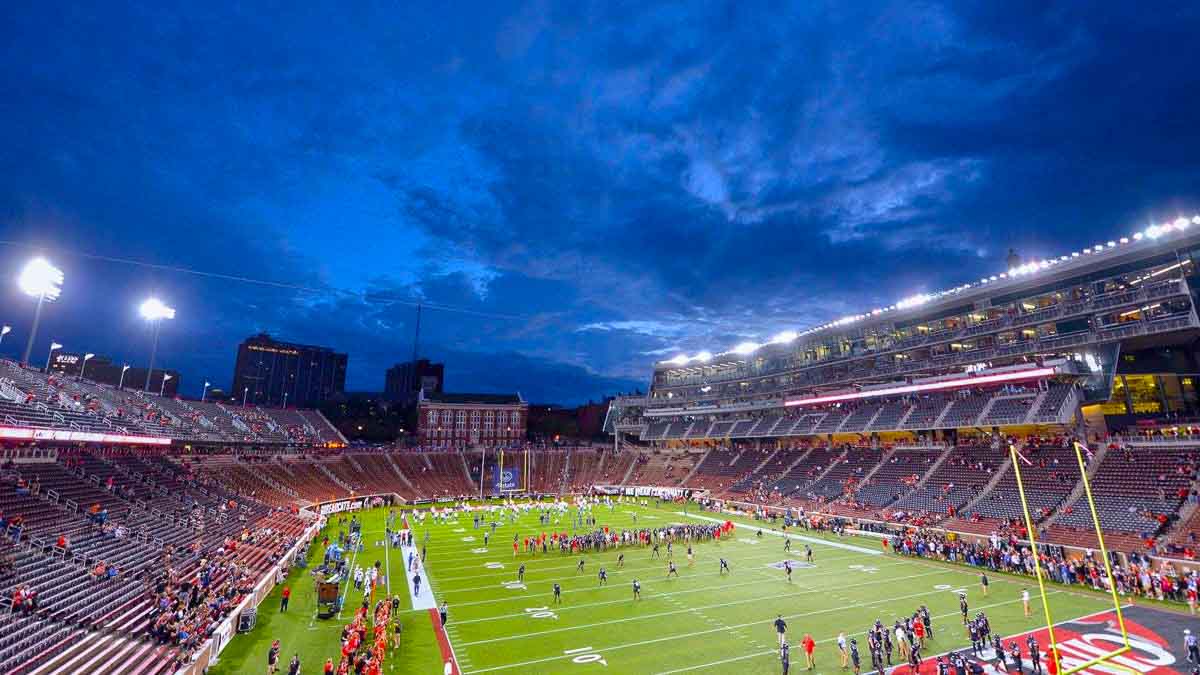 Nippert Stadium is an outdoor stadium in Cincinnati, Ohio. It is located on the campus of the University of Cincinnati and is the home of Cincinnati Bearcats football team since its opening in 1901. Despite being use primarily as a football stadium, it also hosts soccer and serves as the home of FC Cincinnati of Major League Soccer. Nippert Stadium has a seating capacity of approximately 40,000 following an expansion and renovation in 2014.
On October 24, 2015, the Bearcats hosted the UConn (University of Connecticut) Huskies on Homecoming weekend. The game attracted a crowd of 40,124 making it the second consecutive official sellout in the newly renovated Nippert Stadium.
During the final game of the 1923 season with intrastate rival Miami University, UC player James Gamble "Jimmy" Nippert sustained a spike wound injury and he died a month later of blood poisoning. It was reported that his death was due to an infection by droppings left after a pre-game chicken race. Nippert's grandfather, James N. Gamble, one of the founders of Procter & Gamble, donated the required funds to complete the stadium. The money was used to built a locker room and training (medical) facility for the safety of players.
In 1895, the organizer of UC's first football team, Arch Carson, introduced a plan to build a stadium complete with wooden bleachers. It was also planned to be on the site where Nippert Stadium currently stands. The plans became a reality in 1901 while Carson was serving as UC's physical education director. Nippert Stadium is the fourth-oldest playing site and fifth-oldest stadium in college football, respectively.
The first game played, against Ohio University Bobcats, on the site originally called Varsity Field in Burnet Woods was on November 2, 1901. Cincinnati was defeated 16–0 in that game. However, they rebounded a week later by defeating Hannover with a score of 10-0, on Varsity field on November 9, 1901. Additionally, the playing surface at Nippert Stadium that was completed in 1910, is called Carson Field in honor of Arch Carson.
In 1915, construction was completed on the first sections of a brick and concrete structure to replace the wooden stands and continued for several seasons. In 1924, the completed open-air arena was dedicated as James Gamble Nippert Memorial Stadium with a capacity of 12,000.
The field is designed to be slightly offset from a conventional north-south alignment. Its configuration is of north-northeast to the south-southwest at an approximate elevation of 800 feet (245 m) above sea level. In 1936, the field was lowered to allow the stadium's capacity to reach 24,000. In 1954, a small upper deck on the East sideline of the stadium was completed and named the Reed Shank Pavilion, increasing its capacity to 28,000.
In 1992, the stadium went through a major renovation, expanding the upper deck on the East sideline and adding a new Press Box on the West sideline. This expansion increased its capacity to 35,097.
Later, in 2005, new game day locker rooms behind the north end zone, beneath the newly completed Campus Rec Center, were added, as well as a new and bigger video board above the north end zone.
The small seating capacity of Nippert became an issue as the UC program rose to prominence in the late 2000s. In order to curb the lack of seating issue, Former UC head coach Brian Kelly called for an expansion of Nippert, which was at that time the smallest stadium in the Big East Conference.
Finally, on December 18, 2012, President Santa J. Ono and then Athletic Director Whit Babcock unveiled the plans to update and expand Nippert Stadium. The original estimated construction cost was at $70 million, but eventually, an increased budget of $86 million was announced.
On June 25, 2013, the University of Cincinnati Board of Trustees approved the Nippert Stadium expansion plan. Thanks to the expansion, the West Pavilion now includes a new press box and premium seating area. The western concourse also has improved general fan amenities, including concession stands, restrooms, and more efficient in-stadium traffic flow. Additions on the east side of the stadium were more sparse. Still, it included additional concession stands, restrooms, and an expansion of the formerly-cramped concourse walkways, which is located just outside the stadium.
After renovations, Nippert's capacity is now around 40,000, including about 2500 SRO (an exact figure hasn't been confirmed by the university). However, local United Soccer League club FC Cincinnati sold out Nippert Stadium in July 2016 and announced that attendance was at 35,061 people. Later, in early 2017, Nippert lost 1200 seats in a $2 million project expanding the playing field 5 yards in both length and width. The expansion was to accommodate a full-sized soccer field.
The 2014–2015 renovation and expansion was designed by Architecture Research Office (design architect) in close collaboration with Heery International (sports consultant and executive architect). Construction on the Nippert Stadium expansion started in December 2013 and was completed in September 2015. During the 2014 season, the Bearcats played all of their home games at Paul Brown Stadium which was the downtown home of the Cincinnati Bengals.
The stadium has served as a concert, rally, and soccer venue. One of the most notable concerts among the three that was held was on August 3, 1975, Nippert hosted The Ohio River Rock Festival. Aerosmith, Black Oak Arkansas, Blue Öyster Cult, Foghat, Mahogany Rush, Nitty Gritty Dirt Band, REO Speedwagon, and Styx performed at the festival. Total attendance was estimated at 32,000 according to local radio broadcasts. Additionally, the most recent non-football event was performed by Nitro Circus on June 23, 2018, in Nippert Stadium.
Where else, Two US Presidents have spoken at the stadium. On Oct. 16, 1936, President Franklin Roosevelt, running for a second term, from an open car in the rain to a crowd estimated at 15,000 in the stadium. On Nov. 2, 2008, President Barack Obama held a campaign rally at Nippert two days before the 2008 Presidential Election to an estimated 27,000 attendees.
Further Nippert Stadium information pages:
Parking Information:
Read about available parking options on the Nippert Stadium parking information page.
Ticket Policies:
Read up on the ticket guarantee and our chosen ticket marketplace on the Nippert Stadium tickets page.
Seating Chart:
View the seating chart and find out about accessible seating on the Nippert Stadium seating chart page.