Nippert Stadium Seating Chart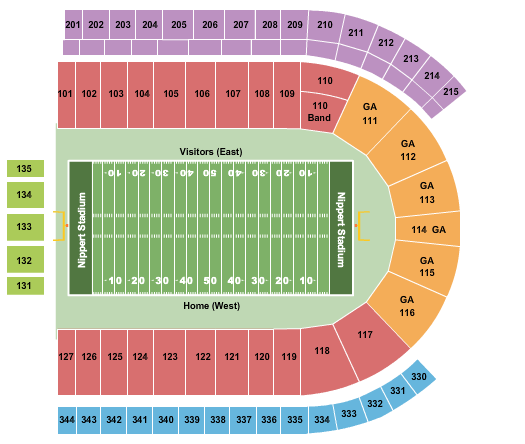 NOTE: Seating configurations can change depending on the type of event. Always check the individual event seating chart when selecting your tickets.
The below information is an approximation based on the 2018 price list however, prices may or may not change depending on the game season.
Kindly click the link we have provided to check on the latest ticket prices.
Best Seats at Nippert Stadium
There are no other seats better than sitting at the sidelines (unless you are comparing premium boxes). The Cincinnati sideline is in front of sections 120, 121, 122 and 123. Where else, the visiting team sideline is in front of sections 105, 106, 107 and 108.
Sections 121 and 122 are the best seats for a full view of the field. The West sideline also puts the sun at your back sooner.
Season Tickets
Packages start at $99 or $16.50 per game in the Coach's Corner in section 127, 101 and 201. The Bearcats Lair is in the north end zone sections 131-135 where the price was reduced to $125 in 2018 but, we are unsure if it would remain at $125 for every other season.
Additionally, season-ticket holders will receive an exclusive gift, season-ticket holder only events, access to the same seat location for all six games at Nippert Stadium, and merchandise discounts at the UC Bookstore
Family Plan Seats
Aquafina Family Section are in section 202, which will be alcohol-free. Tickets are at $99 for adults and $75 for children (ages 4-high school).
Bear in mind that orders must consist of at least one adult and one child ticket and limited to six tickets per account, two adults and four child tickets.
Pick 3-Mini Plans
Bearcats fans can pick a combination of any three home games in Nippert Stadium in these for seat sections for:
The Bearcats Lair ($89)
Red Zone ($99)
Upper Sideline ($109)
Lower Sideline ($139)
Mini-plans can be purchased by calling 1-877-328-849 or visiting the official Go Bear Cats site.
Scholarship Club Seats
Annual Cost:
Sections 338-342: $2,200 per seat, per year.
Sections 334-337, 343-344: $1,900 per seat, per year.
Sections 330-333: $1,600 per seat, per year.
Benefits:
A significant portion of the seat cost is a tax-deductible gift.
The club offers affordable premium seating options for all Bearcats fans with some of the best views inside Nippert Stadium.
Parking, food and non-alcoholic beverages are included with a club seat purchase.
Founders Suites
Full-size Founders Suites, located on the 4th floor, will accommodate between 22-26 guests each while mini Founders Suites, located on the 5th floor, accommodate between 13-16 guests.
Annual Cost:
Full-Size Founders Suite: $100,000 per year with a 10-year commitment
Mini Founders Suite: $50,000 per year with a 10-year commitment
Amenities in the Founders Suites include:
Retractable windows
Lounge area and kitchenette
Flat screen televisions
Catering options
Upscale hospitality opportunities
Complimentary season parking pass
Patio Suites
Located in their own exclusive mezzanine location, the Patio Suites consist of padded chairback seats in an open-air setting.
Annual Cost:
Four Seat Loge: $16,000, per year with a 5-year commitment
Eight Seat Loge: $30,000, per year with a 5-year commitment
Amenities in the Patio Suites include:
Season tickets
Open-air seating with moveable chairback seats
Access to climate controlled hospitality area
Complimentary food and non-alcoholic beverages
Adult beverages available for purchase
Parking pass
**For information on student season tickets and the Young Alumni Program, kindly contact the university directly.
Secure your seat today by purchasing your tickets. Visit the Nippert Stadium schedule to get started.
To view the ticket & refund policy please read the ticket information page.